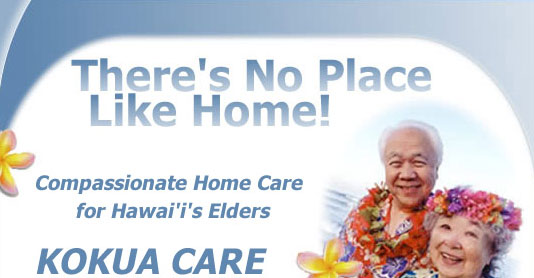 You were an answer to our prayers, a joy to work with, and a part of my family. Saying "thank you" just doesn't seem enough.
--Gail, Honolulu
A special message to you from Kokua Care...click image above to play.
What our clients are saying about Kokua Care!

| | |
| --- | --- |
| | Customized, Personal In-Home Care |
| | |
| | Servicing all of Oahu |
| | |
| | Providing Companionship, Home Health Aide, CNA & RN Services |
| | |
| | Help with meals, errands, house keeping & bathing... |
| | |
| | Convenient, flexible 1 to 24 hour assistance |
| | |
| | 24 Hour Emergency Response |
| | |
| | Free In-Home Assessment & Free Safety Evaluation |

NEW! Kokua Care is proud to announce that we now offer 1 hour bathing services. Do you know someone who just needs assistance with a bath, but thinks a 2 hour minimum is just too much? Kokua Care now provides bathing services with a 1 hour minimum!!...

Call us today for all of your homecare needs

Honolulu 808-734-5555
Leeward 808-671-9000
Windward 808-262-1155
3184 Waialae Ave. Unit B
Honolulu, Hawaii 96816

Are you considering in-home care in Hawaii? Whether it's for yourself or a loved one, you want to be sure that it's home care you can trust; Care that you can count on. That's the Kokua Care way. Hawaii has entered an era where seniors are living longer and healthier. Kokua Care's services assist them to live healthier and longer in their own homes, with independence.
Our Honolulu based home care services are dedicated to fulfilling that dream, allowing you and your loved ones to worry less and live more. Please take time to read more about our services and our company.
Call Us At 808-734-5555
Sunday
May 1, 2016
Honolulu, Hawaii

"Another Great Day
At Home in Hawai'i"